Sydney terror suspects 'threatened stabbings'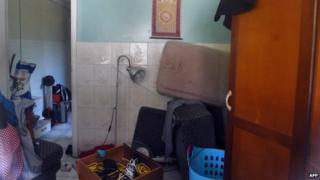 Two men charged with planning a terror act in Sydney had made a video saying they would stab kidneys and strike at necks, Prime Minister Tony Abbott has told parliament.
The men were arrested by police in the city's suburb of Fairfield on Tuesday.
Police say a hunting knife, an Islamic State (IS) flag and the video were seized.
The pair will remain in custody after their lawyer told a Sydney court they would apply for bail in March.
Police allege Omar Al-Kutobi and Mohammad Kiad were about to kill or harm a member of the public with a knife when they were arrested.
Mr Abbott said the video showed one of the suspects promising to "carry out the first operation for the soldiers of the [IS] caliphate in Australia".
"He went on to say ... 'I swear to almighty Allah, blonde people, there is no room for blame between you and us. We only are you, stabbing the kidneys and striking the necks'," the prime minister said.
The lawyer for the men, Deone Provera, did not apply for bail at Central Local Court on Thursday but said an application would be made at a later date, Australian Associated Press reported.
The suspects, aged 24 and 25, are expected to appear via audio-video link at the court on 16 March.
The pair, who were not previously known to police, have been charged with undertaking acts in preparation for planning for a terrorist act. Police said their operation came after a tip-off.
Local media say one of the men came to Australia from Iraq and the other is a nurse from Kuwait. Immigration Minister Peter Dutton said one was suspected of coming to Australia with false documentation.
Mr Abbott said tougher security around people applying for residency was needed, saying similar issues had come to light with Man Haron Monis, the man who took hostages at a cafe in Sydney in December.
The cafe siege left two hostages and Monis - a religious radical who had come to Australia as a refugee - dead, but no direct links between him and Islamist militants have been identified.
"We need to be much more conscious of our border security... We need to be much more careful about giving people the benefit of the doubt," Mr Abbott told Fairfax Radio.
Australia, which has joined the coalition fighting Islamic State militants in Iraq, raised its terror alert last year in response to growing concern over the domestic impact of conflicts in Iraq and Syria.