Sydney siege: Lindt cafe to re-open with permanent memorial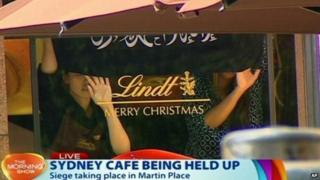 The Sydney cafe which saw a deadly siege in December will have a permanent memorial to the victims when it re-opens in March, officials have said.
Lindt Australia CEO Steve Loane said re-opening the cafe was "the right thing to do, to move forward".
Two of the 18 hostages were killed along with gunman Man Haron Monis when police stormed the cafe in the heart of the city after the 17-hour siege.
Several investigations are under way in to how the tragedy unfolded.
'To return and smile again'
Mr Loane said the decision to re-open the popular cafe in Sydney's Martin Place was taken after a "careful consideration of a number of factors", Australia's Sydney Morning Herald newspaper reports.
He said this included discussions with the cafe's employees "all of whom feel positive about this decision and believe this is the best way forward".
---
Extracts from Sydney cafe siege inquest - lawyer Jeremy Gormly
"Monday the 15th of December began in such an ordinary way. People were starting their day, going to work, coming into town to see the doctor, doing shopping with family members, meeting friends for coffee before work.
It was so ordinary that anyone, friends or family, could have found themselves that morning in the convenient and pleasant Lindt Cafe in Martin Place, right in the middle of Sydney.
At about 08:33, Mr Monis entered the Lindt Cafe. At the time he was dressed in camouflage long pants, a white T-shirt, a black jacket, a baseball cap and was wearing a large black backpack and carrying a blue plastic bag."
---
Mr Loane did not specify the exact date of the re-opening, adding that "there are still a number of practical matters to finalise".
He also provided no details about the planned memorial, saying only that this would be discussed with the victims' families.
During the stand-off, Monis shot dead cafe manager Tori Johnson before being killed by police.
Lawyer Katrina Dawson was killed by police bullet fragments that ricocheted off hard surfaces, a coroner's inquest heard.
"Although it will be difficult at first, we hope to be able in time to return to the Lindt cafe so that [Katrina's] children can continue to experience one of [her] great joys," Ms Dawson's husband Paul Smith was quoted as saying by Australia's ABC broadcaster.
Mr Johnson's partner Thomas Zinn said: "[Tori] always had so much pleasure in making other people happy or [putting] a smile on their face."
"We would like for people to return to Martin Place and smile again."
A review is now under way into the background and security checks on Monis - an Iranian who first came to Australia as a refugee in 1996.
He had a history of religiously-motivated activism and called himself a cleric, but officials have said there is as yet no evidence his actions were linked to international Islamist militant networks.
He was on bail after being charged with dozens of sexual assault charges and with being an accessory to the murder of his ex-wife, who was stabbed to death and set alight.