Berries recalled over Australia Hepatitis A cases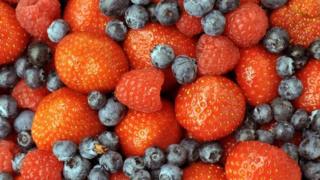 An Australian food company has expanded a recall of frozen berries that health officials are linking to nine cases of Hepatitis A.
Patties Foods said on Tuesday it was recalling 1kg packs of Nanna's Raspberries, in addition to three other mixed berry products already pulled.
It says raspberries from China have been identified as a possible cause.
The nine cases of Hepatitis A have been reported in Victoria, New South Wales and Queensland.
Health officials have warned that numbers could rise because the products are sold nationwide.
Patties Foods had identified a China-based supplier of raspberries, no longer used by the company, as a potential common source, the firm said in a statement.
"While there are no confirmed test results indicating a potential link to Hepatitis A, we are working proactively with Health Authorities based on the information they have presented to date," CEO Steven Chaur said in a statement.
"Some product that was previously supplied by the source may still be in the market and we are taking this added precautionary measure of conducting an additional consumer recall of all frozen raspberries associated with this specific source located in China, in the interests of public safety."
The company apologised to consumers "for the concern and distress this is causing".
News of the scare emerged on Saturday when health officials in Victoria said frozen berry products had been identified as the common link in four cases of Hepatitis A in two states.
Hepatitis A is a liver disease which can cause nausea and fever. It is passed on when people ingest food or water contaminated by faeces from a person who has the virus.
Outbreaks linked to sewage-contaminated water can occur, but casual contact between people does not spread the virus, the World Health Organisation says.
There is no cure, but symptoms usually clear up in a couple of months.