Bali Nine row: Indonesia 'owes Australia' for tsunami aid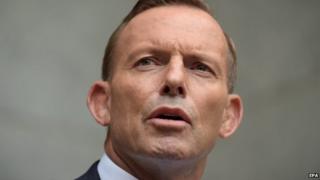 Australian Prime Minister Tony Abbott has said Indonesia should remember the help his country gave after the 2004 tsunami by sparing two Australian men on death row.
Mr Abbott said Australia would be "grievously let down" if the pair's executions went ahead.
Andrew Chan and Myuran Sukumaran were ringleaders of a drug trafficking group known as the Bali Nine.
Indonesia has insisted it will execute the men, despite the pleas.
Speaking to reporters, Mr Abbott said Australia had sent A$1bn ($0.78bn: £0.5bn) in aid after the devastating 2004 tsunami, which left around 200,000 people dead or missing in Indonesia alone.
"I would say to the Indonesian people and the Indonesian government: We in Australia are always there to help you, and we hope that you might reciprocate," he said.
Mr Abbott suggested there would be consequences if the appeals were ignored.
"We will be making our displeasure known. We will be letting Indonesia know in absolutely unambiguous terms that we feel grievously let down."
A spokesperson from the Indonesian foreign ministry said he hoped Mr Abbott's remarks did not reflect "the true colours of Australians".
"Threats are not part of diplomatic language and from what I know no one responds well to threats," Arrmanatha Nasir told reporters.
---
Who are the Bali Nine?
The eight men and one woman were arrested in April 2005 at an airport and hotel in Bali, Indonesia after a tip-off from Australian police. They were trying to carry 8.3kg (18lb) of heroin back to Australia.
In 2006 a court ruled that Andrew Chan and Myuran Sukumaran had recruited the others and paid their costs. They were sentenced to death.
The other seven are serving sentences of between 20 years and life, after some had death sentences revoked on appeal.
Chan and Sukumaran have repeatedly appealed against their sentences and say they are reformed characters - Chan teaches Bible and cookery classes in prison while Sukumaran is an artist.
---
Chan and Sukumaran had been expected to be transferred this week Nusa Kambangan prison, where the executions will be carried out, but this has been postponed.
Officials said the delay was also to allow the men to spend more time with their families. An official told the BBC that the execution was unlikely to take place this month as preparations at the jail were taking longer than expected.
On Tuesday, all of Australia's living former prime ministers added their voices to calls for the men to be spared.
Indonesia has some of the toughest drug laws in the world and ended a four-year moratorium on executions in 2013. President Joko Widodo has said he will not grant clemency to drug convicts, saying narcotics kill thousands of Indonesians each year.
Bali is a popular tourist destination for Australians, but a social media campaign is calling for a boycott if the executions go ahead.