Bali Nine: Vigils for Australians facing execution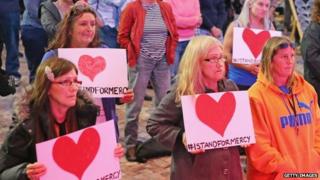 Candlelit vigils have been held across Australia in support of two Sydney men facing the death penalty in Indonesia.
High-profile Australians including popular broadcaster Alan Jones have joined the campaign to save Andrew Chan and Myuran Sukumaran.
The two men were convicted in 2006 as ringleaders of a drug trafficking group known as the Bali Nine.
Indonesia has insisted it will execute the men, despite pressure from the Australian government.
Hundreds of people gathered in the rain on Wednesday night in Melbourne's Federation Square while in Sydney supporters gathered in the western suburb of Toongabbie, home to Sukumaran's family.
Vigils were also held in the cities of Brisbane, Adelaide and Perth, according to local media.
---
Who are the Bali Nine?
The eight men and one woman were arrested in April 2005 at an airport and hotel in Bali, Indonesia after a tip-off from Australian police. They were trying to carry 8.3kg (18lb) of heroin back to Australia.
In 2006 a court ruled that Andrew Chan and Myuran Sukumaran had recruited the others and paid their costs. They were sentenced to death.
The other seven are serving sentences of between 20 years and life, after some had death sentences revoked on appeal.
Chan and Sukumaran have repeatedly appealed against their sentences and say they are reformed characters - Chan teaches Bible and cookery classes in prison while Sukumaran is an artist.
---
The Sydney vigil was organised by one of Australia's most prominent artists, Ben Quilty, who has befriended the men and said he could "quite literally flood this place with tears".
"Maybe because I have been spending a bit of time in a prison lately I felt a bit nervous calling Blacktown police to tell them about tonight," Quilty said at the vigil, reported ABC News.
"But as soon as I told them what I was ringing for instantly I heard a compassionate voice down the phone," he told the gathering.
Organiser of the Mercy Campaign Matthew Goldberg said there had been nearly 200,000 signatures on a petition for clemency for Chan and Sukumaran.
Australian Prime Minister Tony Abbott said on Wednesday said Australia would be "grievously let down" if the pair's executions went ahead.
He reminded Indonesia that Australia had sent A$1bn ($0.78bn: £0.5bn) in aid after the devastating 2004 tsunami, which left around 200,000 people dead or missing in Indonesia alone.
Indonesian authorities announced this week the two men were unlikely to face the firing squad this month, as earlier expected, but said preparations for their executions were still going ahead.