Frozen berry Hep A outbreak spreads in Australia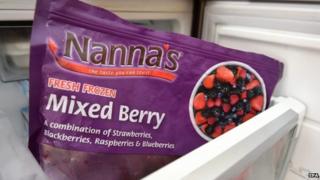 The number of Australians who have caught Hepatitis A after eating frozen berries has risen to 14 and spread to four states.
The Australian Department of Health says it is co-ordinating a national health response to the outbreak.
Children at several schools across the country may have been served contaminated berries.
The berries' distributor, Patties Foods, has recalled four of its products over the outbreak.
Raspberries packaged in China appear to be the common link, the company said.
But Australia's Chief Medical Officer, Prof Chris Baggoley, told a press conference on Wednesday the source of the virus was still unconfirmed.
However, he said the berries were the only common link for all cases.
'Complete recovery is the rule'
Prof Baggoley said it was important to put the cases into perspective, with only one in 100 people who eat the suspect berries, imported from China, likely to get Hepatitis A.
"Some will get no symptoms, some will get mild symptoms... but complete recovery is the rule", he said.
An independent senator, Nick Xenophon, said the outbreak revealed "systematic failures" in Australia's imported food safety regime.
"These berries were considered 'low risk' but failed the most basic of health checks - carrying a bacteria common in faecal matter," he said, quoted by ABC.
News of the scare emerged on Saturday when health officials in Victoria said frozen berry products had been identified as the common link in four cases of Hepatitis A in two states.
Cases have since been reported in New South Wales, Queensland and Western Australia.
Hepatitis A is a liver disease which can cause nausea and fever. It is commonly passed on when people ingest food or water contaminated by faeces from a person who has the virus.