Alcohol affects '1m Australian children'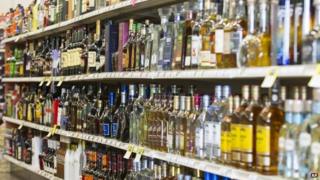 More than one million Australian children are affected in some way by the drinking of others, says a report on alcohol and domestic violence.
As many as 140,000 children are substantially affected.
More than 10,000 children are in the child protection system because of a carer's drinking problem.
The link between alcohol and domestic violence comes as Australia plans to set up a scheme to address family violence and violence against women.
The study, by the government-backed Centre for Alcohol Policy Research (CAPR), was launched in Sydney by campaigner against domestic violence and 2015 Australian of the Year, Rosie Batty.
One Australian woman dies every week as a result of domestic violence, according to government statistics.
'Abuse of power'
The issue was highlighted last year when Ms Batty's son Luke was killed in public by his father while playing cricket.
After her son's death, Ms Batty emerged as an articulate and powerful advocate for the rights of women and children living in violent relationships, giving new force to efforts to prevent family violence across Australia.
The study, The hidden harm: Alcohol's impact on children and families, examined the prevalence and effects of heavy drinking on families and children, and the extent to which they persisted or changed over time.
It drew on two national surveys of alcohol's harm to others, data from policy and child protection services and information gained from interviews with families affected by alcohol.
Domestic abuse
The study was funded by the Foundation for Alcohol Research and Education (FARE). FARE's chief executive Michael Thorn said the research made clear the scale of the problem and the large numbers of children and families affected.
"Governments must embrace a broad public health approach with a strong focus on prevention," said Mr Thorn.
Domestic Violence NSW Chief Executive Moo Baulch said she hoped the research would lead to the development of policies that would see a reduction in domestic violence.
"Domestic and family violence is an abuse of power and control and there is no excuse for it," said Ms Baulch. "We need to better understand the links between alcohol and domestic abuse," she said.
Findings of alcohol impact report:
More than a quarter of survey respondents reported experiencing harm from the drinking of family members
Past harm was the strongest predictor of future harm for children and families
Alcohol abuse is associated with between 15% and 47% of child abuse cases each year across Australia
About 22% of all Australian children are estimated to be affected in some way by the drinking of others; 3% are substantially affected and 0.2% are already within the child protection system because of a carer's drinking