Australia storms: At least 1,000 homes are damaged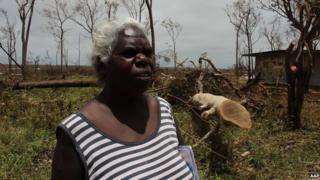 At least 1,000 homes in Queensland were damaged and 350 cannot be returned to, says the state government, after last week's cyclones.
Energy supplier Ergon has estimated that about 42,000 properties remain without power.
The Northern Territory Government has extended a state of emergency for parts of Arnhem Land by three days.
There are no reports of serious injuries, but the extent of material damage is still being assessed.
On Friday, Cyclone Lam brought winds of more than 200km/h (125mph) and heavy rainfall to isolated communities in Top End, in the far north of the state. Cyclone Marcia hit the Queensland coast.
Hundreds of soldiers and army engineers are now in Queensland helping with a massive clean-up.
There has been widespread flooding in central coastal Queensland and further south and inland, with bridges and roads washed away.
Queensland Premier Annastacia Palaszczuk said it was still unclear how much public infrastructure had been destroyed and what impact it would have on the state government budget.
Visiting the city of Rockhampton, one of the worst hit areas, on Tuesday, Ms Palaszczuk said winds had brought down more than 1,800 powerlines.
Generators are being used in some rural areas including Byfield, St Lawrence and Marlborough until major repairs were completed.
Bob Pleash, a spokesman for Ergon Energy, said there was a huge amount of work to do to restore power to all properties.
"We have had trees falling across a lot of lines and some areas are like a twisted mess," Mr Pleash told local media.
"In outlying rural areas, some sections will have to be completely rebuilt," he said.
In the Gladstone region, residents of the towns of Jambin and Biloela were angry authorities did not better control flood waters from the Callide Dam.
'Too dangerous'
Heavy rain from Cyclone Marcia boosted the dam's level to 90% on Friday night, triggering the automatic gates to open.
More than 400 homes and businesses in Jambin and Biloela were flooded, according to ABC News.
Dam manager SunWater said the dam was not opened manually because it was too dangerous for officers to work during the cyclone.
The company's bulk water general manager, Tom Vanderbyl, said the intensity of the rainfall upstream was unprecedented.
"The water levels upstream...rose by seven metres or more in three hours," he told 612 ABC Brisbane.