Dozens of Australian women 'supporting terrorism'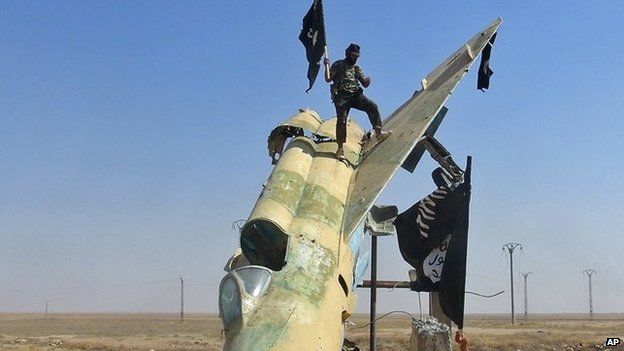 Up to 40 Australian women have taken part in terror attacks or are supporting militant groups, Foreign Minister Julie Bishop has said.
She said an increasing number of women were going to Syria and Iraq to join husbands fighting with Islamic State (IS) or to marry a militant.
Dozens of Australian nationals are thought to have joined IS.
Australian officials are worried about the effect of returnees, and on those who support them, on domestic security.
Ms Bishop said that women accounted for nearly one-fifth of all foreign fighters in Syria and Iraq, but that it "defied logic" that women would join groups such as IS.
"If the killings and executions aren't enough, Daesh [IS] has published instructions on the treatment of sexual slaves, which includes raping and beating women," she told parliament.
"Even children are not immune with instructions encouraging sexual assault on girls who've not yet reached puberty," she added.
Ms Bishop called for family and friends to reach out to vulnerable young people to prevent them from being radicalised.
Meanwhile, an Australian man fighting with Kurdish militants against IS is believed to have been been killed in northern Syria.
He was identified in the Australian media as 28-year-old Ashley Johnston, a former soldier from Maryborough, Queensland.
Australia's defence department confirmed a former reservist had died but did not confirm his name.
The UK-based Syrian Observatory for Human Rights said he had died on Tuesday in an IS attack on the YPG militia (Kurdish People's Protection Units).
Observatory director Rami Abdel Rahman told AFP news agency: "The YPG isn't actively recruiting foreigners, but people from countries like Canada, the United States, Britain, Spain, Australia, Holland, Austria and France have travelled to Syria to join their ranks."
On Monday, Prime Minister Tony Abbott announced a push to toughen citizenship laws in an attempt to target domestic extremists.
"Australians who take up arms with terrorist groups, especially while Australian military personnel are engaged in Afghanistan and Iraq, have sided against our country and should be treated accordingly," he said.
For dual nationals, this means revoking or suspending citizenship. He added that people born in Australia could also lose some privileges if they broke anti-terror laws.