Government funding boost for Australia's ailing car industry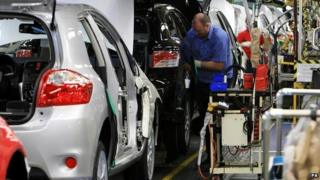 The Australian government is to restore hundreds of millions of dollars of funding to the ailing autos sector.
Industry Minister Ian Macfarlane said that A$500m ($384m; £254m) of the taxpayer assistance which was cut in last year's budget would be renewed.
Mr Macfarlane said the move would ensure the components sector would survive until at least 2017.
Australia's car industry has been in decline for decades, with only three manufacturers left in the country.
In recent years, Ford, General Motors' Holden unit and Toyota all said they would stop manufacturing cars in Australia by 2017, effectively marking the end of the country's car production industry.
Job losses
Under the previous Labor government, A$900m had been earmarked for the car and car components industry under the Automotive Transformation Scheme (ATS).
Tony Abbott's Coalition government slashed the ATS funding in last year's budget, to meet an election commitment.
But the cut prompted widespread fears, including in the coalition, about thousands of jobs losses and a danger that car makers would pull out of Australia before 2017.
"The government will withdraw legislation that would take A$500m out of the ATS between now and 2017," said Mr Macfarlane.
"We need the components industry to be there right till the end," he said.
The decision is the latest of a series of policy reversals by the government, including dumping a plan to charge patients extra fees for visiting their local doctor, and abandoning Mr Abbott's signature paid parental leave scheme.
Australia's car industry has traditionally received billions of dollars in subsidies from the government.
However, a national commission recommended the financial support be dropped and that car companies instead cut costs to survive.