Cyclone Olwyn brings winds to Western Australian coast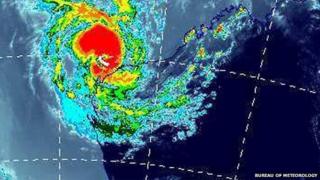 A severe tropical cyclone has hit the coast of Western Australia, bringing heavy rain and hurricane-force winds.
Category three Cyclone Olwyn is now heading towards Perth, having weakened after making landfall near Exmouth on Wednesday night.
As of 17:00 local time (09:00 GMT), it was packing winds of 130kph (81mph) and was moving south at 24kph.
People in the region have been warned to move to higher ground to escape dangerous flooding.
Australia's Bureau of Meteorology warned of "very destructive" winds and extensive flooding across the coast, but also noted that the cyclone was weakening as it moved south.
Residents in coastal communities in the direct path of the storm have been put on red alert and told to seek shelter in the strongest part of their homes.
In the town of Exmouth, hundreds have been left without power and the mains water supply has been affected, according to local reports. Roads have been washed out and strong winds tore off some roofs.
Weather officials said that Perth was likely to experience very heavy rain by late Friday night and flash flooding in low-lying areas.
'Very destructive'
Mike Bergin, regional director of the Bureau of Meteorology, warned the wind could turn any object into a missile.
"At the strength we're talking about with Olwyn, anything that is not strapped down could become a missile - trees and power lines could be brought down," Mr Bergin told the WA Today news outlet.
The cyclone is expected to lower to category two before dying into a low-pressure system on Saturday morning,
Tens of thousands of homes in Queensland were damaged or left without power in February after Cyclone Marcia hit the coast.
Separately, Tropical Cyclone Lam hit a remote area of the Northern Territory, also in February.