Indonesia rebukes Australia over Bali Nine publicity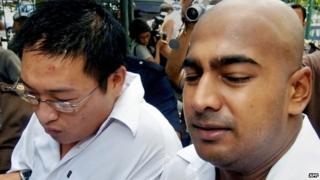 Indonesia has publicly rebuked Australia for publicising its efforts to spare the lives of two Australian drug smugglers on death row.
Australian Foreign Minister Julie Bishop has released details of phone calls and correspondence with her Indonesian counterpart, Retno Marsudi.
"We regret when friendly countries do their diplomacy through the media," Indonesia said on Thursday.
Indonesia has refused to grant Andrew Chan and Myuran Sukumaran clemency.
Arrested in 2005, they were found to be the ringleaders in the "Bali Nine" group of Australians trying to smuggle heroin from Indonesia into Australia.
It emerged on Thursday that Ms Bishop told the Indonesian Foreign Minister Retno Marsudi in a letter that Australia was prepared to pay the costs of life imprisonment for the men if their death sentences were commuted.
The letter also formalised an offer that Ms Bishop had previously made over the phone to swap three Indonesian prisoners in Australia for Chan and Sukumaran.
Ms Marsudi responded to the letter rejecting the offer of a prisoner swap.
Both letters were released to the media by Ms Bishop's office.
Asked on Thursday about the ministers' correspondence, Arrmanatha Nasir, an Indonesian foreign ministry spokesman, criticised Australia's decision to publicise the details.
"Official communication between governments, especially between foreign ministers or between two heads of state, as diplomacy or relationship between two countries, ethically, is something secret in nature," he said.
'Not a negotiation'
Indonesia has so far politely rebuffed Australia's appeals for clemency. Its rebuke of Ms Bishop's decision to release her correspondence with Ms Marsudi is the clearest signal yet that diplomatic efforts to save the men are unlikely to succeed.
Asked by the AFP news agency whether Indonesia would take up Ms Bishop's offer to pay for the pair's imprisonment, Mr Nasir said the death penalty had "already been decided by the courts".
"This is not a negotiation," he said, "a legal decision has been taken".
A final appeal lodged by lawyers for Chan and Sukumaran was due to be heard on Thursday in Jakarta but was postponed for a week.
Tony Spontana, a spokesman for Indonesia's attorney general, confirmed on Thursday that the execution - by firing squad - would only take place after all 10 prisoners due to be executed had exhausted their appeals.
"That's why we gathered them in one place, Nusa Kambangan, and up to today there's no changes to the plan," he told reporters in Jakarta.
The appeals process for the 10 could mean the execution is several weeks away.
---
Who are the Bali Nine?
The eight men and one woman were arrested in April 2005 at an airport and hotel in Bali, Indonesia after a tip-off from Australian police. They were trying to carry 8.3kg (18lb) of heroin back to Australia
In 2006 a court ruled that Andrew Chan and Myuran Sukumaran had recruited the others and paid their costs. They were sentenced to death
The other seven are serving sentences of between 20 years and life, after some had death sentences revoked on appeal
Chan and Sukumaran have repeatedly appealed against their sentences and say they are reformed characters - Chan teaches Bible and cookery classes in prison while Sukumaran is an artist