Australia to ban dumping dredge spoil on Great Barrier Reef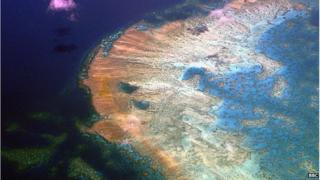 The Australian government is to ban the dumping of earth from seabed excavation on the Great Barrier Reef.
Environment Minister Greg Hunt said the ban would apply to existing excavation proposals as well as future proposals.
The proposals apply to industrial excavation known as capital dredging used to create or enlarge shipping channels.
The reef, home to a huge array of life, is under threat from massive industrial development to enlarge port facilities.
Mr Hunt said the dumping of capital dredge spoil in the Great Barrier Reef Marine Park would be completely banned under draft legislation drawn up by the federal government.
"This will end the practice that has been going on for 100 years for perpetuity," he said.
Mr Hunt said the move would protect the 99% of the marine park that is the responsibility of the federal government.
The Queensland government, which has authority over the other 1%, "will take legal steps to cover the gap", he said.
Dredging involves cutting away large swathes of seafloor, lifting or sucking it up and dumping it somewhere else - usually into deeper water further out to sea or on to "reclamation" areas where sea is turned into land.
Capital dredging is used to create enlarge existing shipping channels, berths or terminals where ships load and unload, as well as marinas, boat harbours and areas where the ships turn around.
Last week, Queensland Premier Annastacia Palaszczuk said the approval process for expanding the Abbot Point coal terminal in north Queensland had been restarted, in a bid to keep dredge spoil away from the reef and nearby wetlands.
Mr Hunt's statement comes just a few months before Unesco's World Heritage Committee meets in June in Germany to discuss whether to place the Great Barrier Reef on the list of world heritage areas that are at risk.
Neither the federal or state government initiatives are enough to protect the reef, said Australian Greens environment spokesperson Senator Larissa Waters.
Senator Waters said that in the last five years, 80% of the dumping had occurred in the 1% of the World Heritage Area that is outside the marine park, and not protected by the federal ban.
While the state government's proposed ban is for the World Heritage Area, not the smaller marine park, "it's unclear whether it will apply to projects already applied for or approved", Sen Waters said.
"The Greens are calling on the Palaszczuk government to make sure its ban covering the World Heritage Area applies to all projects, whether they are already applied for or approved," she added.