Northern Queensland braces for another tropical cyclone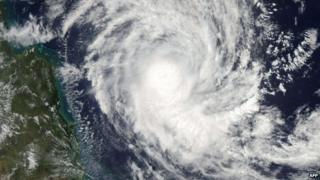 A powerful category three cyclone is headed for the far-north of Queensland in Australia.
Forecasters predict Cyclone Nathan, currently 400km (249 miles) off the coast, will make landfall on Friday.
Residents between Cairns and Cape Melville have been warned to stay indoors, with gale force winds of up to 110km/h (70mph) expected.
Separately, south-east Queensland saw severe thunderstorms early on Wednesday.
Nicholas Shera, from the Queensland office of the Bureau of Meteorology, told the BBC that residents in the path of Cyclone Nathan were at risk of heavy rain and flash flooding.
"There's also a risk of a dangerous storm-tide as it crosses the coast," Mr Shera said.
"That could put the water up to a level well above the normal, with dangerous waves and flooding of low-lying areas," he added.
Several populated areas lie in the cyclone's path, including the tourist town of Cairns, home to 150,000.
The cyclone is currently a category one, the lowest on the scale of five, but it is expected to reach level three by the time it hits the coast.
Wind speeds near its centre could reach up 150km/h as it moves north-westerly over the land, Mr Shera said, putting houses in its path at risk of structural damage.
The cyclone was expected to move inland towards Laura and Kalinga on Friday, dissipating to a category one level on the way.
The cyclone comes less than a month after northern Queensland was struck by a powerful cyclone.
In February, Cyclone Marcia hit the Queensland coast with winds up to 285km/h - the sixth category five cyclone recorded in Australia.
Another cyclone struck the nearby Pacific islands of Vanuatu over the weekend, killing at least 11 people and leaving thousands homeless.
Aid agencies began emergency flights on Tuesday to some of Vanuatu's remote outer islands following Cyclone Pam.