Australian Salvation Army 'exposed boys to sexual abuse'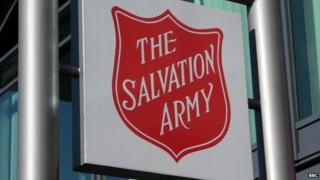 The Australian Salvation Army failed to protect young boys in its care from sexual abuse, a report has found.
The report, by Australia's Royal Commission, examined four homes run by the charity in New South Wales and Queensland.
It detailed brutal sexual and psychological abuse of young boys put in the care of the state at the four homes between 1965 and 1977.
Boys who attempted to report abuse were punished or accused of lying, it said.
"The commissioners found that the Salvation Army did not protect the boys from sexual abuse in each of the four homes," the report said.
"The commissioners also found that the Salvation Army received more than 100 claims of child sexual abuse concerning boys' homes and in most cases, the boys who reported the abuse were punished, disbelieved, accused of lying or no action was taken."
Violent sexual abuse
The report described a "bear pit mentality" in the four homes, in which boys were subjected to "regular and excessive physical punishment" as well as psychological abuse.
Examples included a boy dangled head first into a well, another tied to a tree with a chain attached to a metal collar, and another forced to eat his own vomit.
Boys at the homes were also subjected to violent sexual abuse by staff and other boys.
Documentary evidence examined by the inquiry suggested the abuse dated back to the 1940s.
Kate Eastman, counsel for the Salvation Army, apologised during the hearings for the "horrific experiences" suffered by victims.
"We acknowledge that it was a failure of the greatest magnitude," she said, adding that the Salvation Army had put in place safeguards to ensure children in its care "will never be placed in situations like this again".
The inquiry was launched by former Prime Minister Julia Gillard in 2013. It has investigated reports of abuse in religious organisations and schools, as well as orphanages.
The report's publication on Tuesday comes as Philip Wilson, the Roman Catholic Archbishop of Adelaide, was charged with concealing child sexual abuse by a priest in the 1970s.
Bishop Wilson, who gave evidence to the Royal Commission inquiry, denies failing to report abuse carried out by Jim Fletcher, who died in prison in 2006 while serving time for raping an altar boy.
If found guilty, the archbishop could serve up to two years in jail.