Chinese woman in court over Australia double murder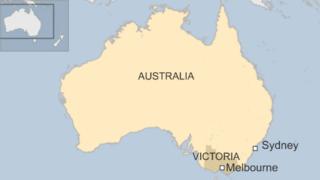 A Chinese woman accused of stabbing a four-year-old boy and his grandmother to death with garden shears has appeared in court in Melbourne.
Police say Cai Xia Liao had an affair with the boy's grandfather, Brian Mach.
They say she tied up Mr Mach and killed his grandson, Alistair, who he was looking after. She then waited for his wife, Mai, to return and killed her.
She has been charged with two counts of murder, intentionally causing injury and false imprisonment.
Mr Mach was taken to hospital with minor injuries.
A court hearing late on Wednesday was told that Mr Mach, 61, had recently ended a three-year relationship with Ms Cai, 45.
Detective Leading Senior Constable Tony Harwood said Ms Liao, a Chinese national, arrived at the house early on Tuesday morning.
She "assaulted and subdued" Mr Mach and then attacked his grandson, who was in bed, he told the out-of-sessions hearing.
When Mai Mach returned home from work several hours later, she "was chased into the backyard by the accused".
She was "attacked with the same pair of garden shears, also suffering extreme neck and head injuries", he said, receiving more than 23 stab and slash injuries.
The police were called to the house by a neighbour.
Ms Liao sobbed throughout her remand hearing on Thursday, Australian media reported.