Australian koalas get star treatment before flying to Singapore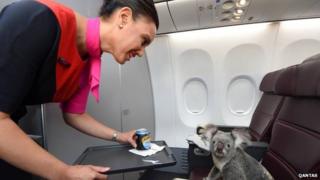 Four koalas being loaned to Singapore by Australia to mark the city state's 50th independence anniversary have been given star treatment by Qantas airline.
The animals were offered hot towels and eucalyptus leaves in a photo shoot staged in a cabin, though they will actually be travelling in crates.
Paddle, Pellita, Chan and Idalia will spend six months as "cultural ambassadors" for Australia.
They can be visited in Singapore Zoo from May once quarantine is complete.
Users on the BBC's Facebook post made the most of Koala puns and emojis.
Many offered their own captions to the images released by Qantas. "Wow showing her teeth and making direct eye contact. Hope there is an air marshal on that plane when that koala decides to attack," one wrote.