Four killed as severe storms lash New South Wales in Australia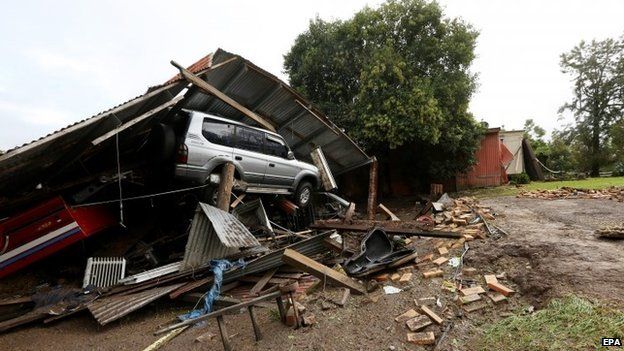 At least four people have died in New South Wales as violent storms continue to batter the Australian state.
An 86-year-old woman was killed in the Central Hunter region when her car was swept into flood waters, police said.
Two men and a woman were found dead in Dungog north of Sydney, one of the worst affected areas, where homes have been washed away by flooding.
Dungog was among 12 communities declared a natural disaster area on Wednesday by emergency services.
Residents in the capital Sydney have been urged to evacuate after days of heavy rain have put more than 200 homes in the south-west of the city under threat from rising river levels.
Officials say the fierce weather will continue for at least another day, with the Bureau of Meteorology warning that a second storm cell was gathering at sea north of Sydney.
Another 200,000 homes in the state have been left without power.
Mike Baird, the premier of New South Wales, said the next 24 hours would "remain a challenge" but that the storm did appear to be easing.
Parts of the region have experienced more than 30cm (one foot) of rainfall, wind gusts of more than 100km/h (60mph) and waves reaching record heights of 15m (50ft).
'Unbelievably huge waves'
Residents of the Milperra and Chipping Norton areas of south-west Sydney have been told to leave their homes amid fears the nearby Georges River is about to burst its bank.
The ferocity of the storm has taken the region by surprise. Homes have been swept away, cars crushed, trees uprooted and power poles snapped.
"To give you a sense of the size and scope - in Dungog [north of Sydney] there's more rain that has come down in the last 24 hours than they have seen in a 24-hour period for the past century," said Mr Baird.
One resident in Greta, north-west of Newcastle, which saw 30cm of rainfall, said the water rose so fast it had reached waist height before he thought to call the emergency services.
"About lunch time it was lapping at the back steps and I thought I had better get out of here. I put a pair of jeans on, a jumper and tried to get out the front door," Henry Krayevski told ABC News.
By the time his rescuers reached him, Mr Krayevski said he was clinging to a tree outside with the flood water at chest height.
An 86-year-old woman died after her car, along with another car, was swept off a causeway in Maitland, near Newcastle. Another elderly woman is still missing, local reports say.
Three people from the second car were rescued, but the first car was quickly submerged by the river waters.
The world's largest port for coal exports in the city of Newcastle, north of Sydney, has been shut due to the storm
The State Emergency Service (SES) says it has received nearly 10,000 calls for help and has conducted more than 100 flood rescues
Air, train and road travel is still disrupted in Sydney although some ferry services have resumed
SES helicopters have been able to take off for the first time in 36 hours and are taking supplies to the worst affected areas such as Dungog
The power supplier Ausgrid says it is working hard to restore power to some 205,000 homes in Newcastle and areas to the south and east
The Insurance Council of Australia says it has received 19,500 claims, with losses estimated at US$100m
There was huge relief for 2,500 passengers on board the Carnival Spirit cruise ship that had been trapped at sea since Tuesday after Sydney's dock was shut.
Finally able to get their feet back on dry land, one passenger spoke of feeling "completely helpless" in the face of "unbelievably huge waves" and fierce winds and rain.
"People were unable to get around, just because it was so hard to move in those heavy, heavy seas, so we all just battened down the hatches," Rachel Browne told the BBC.
"Most people took to their cabins, a lot of people were just too unwell to come out and do anything."
Are you in New South Wales? Have you been affected by the storm? You can share your experiences by emailing haveyoursay@bbc.co.uk. If you are available to speak to a BBC journalist please include a contact telephone number.
Alternatively, you can text your comments to +447624800100 or message us on WhatsApp +44 7525 900971
Related Internet Links
The BBC is not responsible for the content of external sites.