Australian pet python has BBQ tongs surgically removed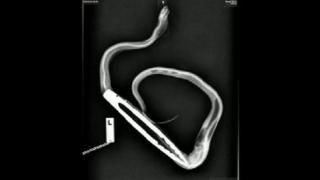 A pet python in the Australian city of Adelaide has had surgery to remove a pair of BBQ tongs it accidentally ate, according to local media.
Owner Aaron Rouse was feeding a dead rat to his snake, named Winston, when the reptile swallowed the tongs.
Mr Rouse enlisted the help of a veterinarian at Adelaide University to perform the operation to extract them.
"We were able to remove them quite easily once we got the big end out," Dr Oliver Funnell told ABC news.
Snakes have the ability regurgitate food if they have a change of heart, but Dr Funnell says he was not confident Winston would be able to regurgitate the tongs "even if he tried".