Johnny Depp's dogs flown home from Australia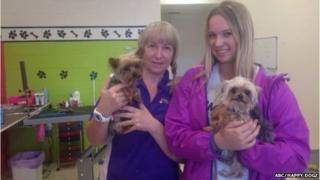 Two dogs owned by actor Johnny Depp have been flown out of Australia after facing being put down, the country's agriculture minister has said.
"Dogs gone," Barnaby Joyce tweeted.
Depp was accused of not declaring Yorkshire Terriers Boo and Pistol to customs officials when they flew into Queensland by private jet last month.
Thanking Depp and his wife Amber Heard for co-operating, Mr Joyce said Australia had "strict biosecurity requirements for good reasons".
He had given Depp a deadline of Saturday to return the dogs to the US or they would be put down.
Australia's quarantine regulations aim at preventing diseases such as rabies reaching its shores.
But Mr Joyce has been criticised for his strong stance, with thousands signing a petition to spare them. He received praise and condemnation from people using the #WarOnTerrier hashtag.
Mr Joyce defended his position by saying: "If we start letting movie stars even though they've been the 'sexiest man alive' twice to come into our nation, then why don't we just break the laws for everybody?"
The dogs' illicit entry appears to have been uncovered after a grooming salon on the Gold Coast posted pictures of them on its Facebook page.
Biosecurity officials then visited the vast Gold Coast house Depp and Heard are renting on Wednesday and ordered the dogs into quarantine.
Depp is in Australia to shoot the fifth film in the Pirates of the Caribbean series.
---
Can you take your dog to Australia?
Yes, but only if it came from an approved country, is not pregnant and is not a banned breed or domestic/non-domestic hybrid
The dog must first be fully vaccinated and microchipped before it can get an import permit
Within 45 days of travel it has to test clear for diseases including Ehrlichia canis, Leptospirosis, rabies and parasites
Five days before travel it must be health-checked by a government-approved vet in the export country
On arrival it must go into government quarantine for a minimum of 10 days on arrival, longer if it is seen as coming from a riskier country or it shows signs of ill-health
Private jets are subject to the same regulations as any other vessel or aircraft