Australia central bank urges housing concessions review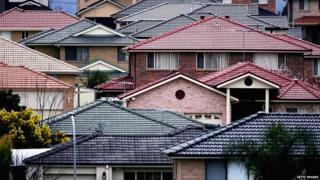 The Reserve Bank of Australia (RBA) has urged the government to reconsider tax concessions for property investments.
The RBA said negative gearing - tax concessions for buy-to-let property investors - may be encouraging debt-fuelled investment.
Its recommendation to a parliamentary inquiry comes amid rising house prices in Australia's major cities.
The government has pledged not to change the concessions, which benefit wealthier Australians.
In a submission to the inquiry into home ownership, the RBA noted there had been a "pronounced decline" in home ownership among younger households in recent decades.
At the same time, the number of people buying investment properties had risen to about 10% of adult Australians, and most of those investments were heavily geared.
Rising prices
Australia's taxation system is relatively generous to small investors in buy-to-let property compared with some other countries.
"The Bank believes that there is a case for reviewing negative gearing, but not in isolation," it said in its submission.
Since 1985, investors have been able to deduct losses from their property investments against wage income as well as other property income.
Some economists have argued that negative gearing has fuelled rising house prices, locking young Australians out of home ownership.
At the same time, changes to rules governing superannuation - private pension funds - have encouraged older Australians to borrow money to invest in residential property.
The RBA's comments strengthened calls for a review of the concessions, amid a broader debate in Australia about tax reform.
Treasurer Joe Hockey on Wednesday said negative gearing would not be scrapped.
"Individuals should be able to deduct the expenses of a business or an investment against their primary income. That's a principle," Mr Hockey said.
The RBA noted that, to some extent, negative gearing induced landlords to accept a lower rental yield than might otherwise be the case.
"It is worth noting, however, that the interaction of negative gearing with other parts of the taxation system may have the effect of encouraging leveraged investment in property."
Home ownership in Australia has been stable at about 70% since the 1960s.