Adani's Australian coal prospects in doubt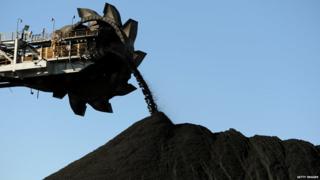 An Australian court's decision last week to overturn approval for a giant coal mine in Queensland is the latest stumbling block for Indian company Adani's multibillion-dollar venture.
Long before the Federal Court of Australia overturned government approval for the Carmichael coal project, international banks had steered clear of investing in the project.
Policy confusion around climate change, a falling coal price and the environmental hurdles mining companies have to leap in Australia before a project can be approved have all been cited as reasons for Adani's struggle to get financial backing.
In April, French financier Credit Agricole said its lack of interest in the project was because of "the number and magnitude of issues linked to the planned coal development projects" in Queensland's Galilee Basin.
Unprecedented scale
Thursday's announcement by the Commonwealth Bank of Australia (CBA) that it was no longer providing financial advice to Adani on the project strengthened doubts about the financial viability of what would have been one of the world's biggest coal mines.
The project is now "dead in the water," says Tim Buckley, director of energy finance studies at the Institute for Energy Economics and Financial Analysis.
"Not just because of the overturned approval, but because of a lack of finance, and a structural decline in the resources market," Mr Buckley told the BBC.
"The banks just aren't convinced there's money to be made."
Estimated to be worth about A$16bn ($12bn, £8bn), Carmichael was the largest of nine super-mines proposed for the Galilee Basin, one of the country's richest coal reserves.
Unprecedented in its scale, the new mines were supposed to represent a significant shift into undeveloped areas for Australia's coal industry.
Adani was seen as the only group potentially able to finance the expensive rail and port infrastructure needed to get the coal to market.
But this week, an Australian court overturned government approval because of environmental concerns.
Banks have other worries, though. A number, including Citigroup, Deutsche Bank and Morgan Stanley, have said they are not interested in funding the project.
Just to export the coal would have cost A$2.1bn, with a 189km (117 mile) rail line needed to take it to a new port at Abbot Point, near the Great Barrier Reef.
Vulnerable reef
Dredging for the new port and increased shipping so close to the already vulnerable reef concerned scientists, environmentalists and the United Nations.
Pressure from those sources may have been what led financier Morgan Stanley to send a letter to the environment group Rainforest Action Network last year, saying the bank would "not lend to or invest in the expansion of Abbot Point".
Mr Buckley says the termination of CBA's advisory role was highly significant for the project.
"Global banks look at which of the local banks are involved [in a project of this size]," Mr Buckley says.
"[Local banks] have on-the-ground knowledge and a feel for the project. Effectively, they endorse a project as a pathfinder for global investors."
A slump in the coal price since the mine was planned is another problem.
"Adani's modelling predicts the mine would be profitable at prices north of US$100 a tonne," says Mr Buckley.
"Thermal coal is now is around US$40. The numbers alone are too risky for most banks to contemplate."
He says Chinese coal imports have fallen about 37% this year, and Indian coal imports - a market targeted by Adani - are down 11%.
Prices aren't expected to rise anytime soon.
But some experts believe, depending on the coal price, the mine may still open.
"This [court] decision delays the project rather than overturns it," says John Rolfe, deputy dean of research at the School of Business and Law at Central Queensland University.
Mr Rolfe says the mine would be a boon for the economy, creating nearly 4000 jobs.
"Opening the mine would increase coal-mining employment in Queensland by 13%," he told the BBC.
However, he warned that court cases like last week's - that overturned government approval for the mine - will be more common in the future.
Adani says it is committed to ensuring the project goes ahead, but says it will have to reassess some aspects because of approval delays.
"For the past six to 12 months, Adani has maintained a level of investment and project timelines based on anticipated approvals timelines and milestones," it said in a statement.
"As a result of changes to a range of approvals over that time it's necessary our timelines and budget reflect those changes."
Julian Lorkin is a Sydney-based business writer.