Tony Smith elected Australia's new lower house speaker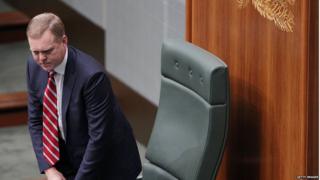 Victorian MP Tony Smith has been chosen by Liberal MPs as Australia's new House of Representatives Speaker.
Mr Smith replaces Bronwyn Bishop who resigned from the speaker's chair last week because of an expenses scandal.
Mr Smith's election to the speaker's chair on Monday comes at the start of the latest session of parliament.
The Victorian member for Casey in Melbourne was the favourite to take over the speakership.
The Speaker determines which members of the lower house may speak and is responsible for maintaining order during parliamentary debates.
He or she may punish members who break the rules of the House.
Ms Bishop had a reputation as a partisan speaker, regularly throwing Opposition MPs out of the house for disorderly conduct.
She had ejected a record number of MPs in her relatively short time as Speaker.
Independence
She also continued to attend regular party room meetings, which the Opposition said damaged her ability to act as an independent speaker.
Mr Smith said he would not attend those meetings.
"It's my view that the Speaker should not only be, but also should be seen to be, independent of the partisan day-to-day fray," he told the Parliament.
Prime Minister Tony Abbott, who demoted Mr Smith from a shadow parliamentary secretary position after the 2013 general election, noted the new speaker had met with some disappointments over his 15-year parliamentary career.
"It's precisely because you have met with triumph and disaster and treated both those imposters the same that you so strongly commanded a majority inside the Liberal party room and why you have been elected unopposed here in this chamber," Mr Abbott told the parliament.
Colleagues praised Mr Smith as a "fearless advocate" for voters in his electorate, and noted his little-known hobby of restoring old cars.
Ms Bishop, an ally of Prime Minister Tony Abbott, had used A$5,000 (£2,300) in public funds to charter a helicopter to attend a political fundraiser.
She also claimed expenses for attending colleagues' weddings.