Australia PM Turnbull to swear in new cabinet on Monday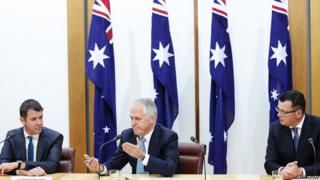 Australian Prime Minister Malcolm Turnbull will swear in a new cabinet next Monday, a week after successfully unseating Tony Abbott from the top job.
Speaking at a news conference on Wednesday, Mr Turnbull said Mr Abbott had not yet indicated his plans.
Mr Abbott later told news.com.au that he intended to "remain in the parliament" but did not say whether he would take a ministry job if offered.
He told the news website that it had been a "tumultuous week".
"I now intend to spend some time with my family to think about the future," he also said.
Mr Abbott has not appeared in parliament since he was ousted on Monday.
US President Barack Obama has phoned him to commend his leadership in the fight against the so-called Islamic State group, local media reports.
The new prime minister would not comment on the make-up of his new cabinet.
Earlier, Treasurer Joe Hockey refused to comment on speculation he would be dumped from the portfolio.
Political pundits have tipped Social Services Minister Scott Morrison to replace him.
Asked if he would include more women in the cabinet, Mr Turnbull would say only "there is no greater enthusiast than me for seeing women in positions of power and influence in parliament, in ministries right across the country".
On Wednesday - his first full day as prime minister - Mr Turnbull and the state premiers of New South Wales and Victoria signed the next stage of the National Disability Insurance Scheme, which co-ordinates funding for people with disabilities.