Abbott says he would have won the election in first radio interview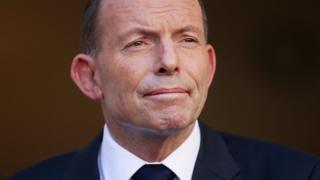 Ousted Australian Prime Minister Tony Abbott says he is confident he would have led his Liberal party to victory, if not replaced by Malcolm Turnbull.
Mr Abbott was unseated by Prime Minister Turnbull after losing a party room ballot by 54 votes to 44.
During his first radio interview after being overthrown, Mr Abbott said he could pull off a come-from-behind win like the UK's Cameron government.
He said lagging polls do not always translate to ineffective government.
"You can be not especially popular in these personal approval ratings and at the same time lead a very effective political operation," Mr Abbott told 2GB radio in Sydney.
"It's difficult to do the right thing by the country when you have 'death by polls'."
Mr Abbott urged Canberra to stop the leadership revolving door, saying politicians who are watching their backs are going backwards.
He said no policy has changed since the change of leadership two weeks ago.
"If you listen to the prime minister and treasurer they are even using exactly the same phrases Joe Hockey and I were using a fortnight ago," Mr Abbott said.
He did not reveal his plans for the future, but said he would decide around Christmas time.
"I'm too young to retire, I've still got something to contribute to public life," Mr Abbott said.