US anti-abortion campaigner has Australia visa revoked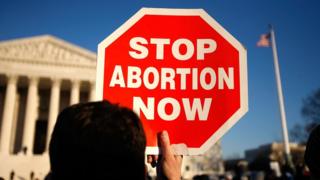 US anti-abortion campaigner Troy Newman has been stopped from flying to Australia after his visa for the country was revoked.
He had already flown from Kansas to Colorado, but was denied boarding the next flight to Los Angeles, from where he would have flown to Melbourne.
Mr Newman was due to speak at events promoted by the group Right to Life Australia.
He has previously called for the execution of abortion doctors.
Australian Labor MP Terri Butler, who wrote to Australia's immigration minister to ask that Mr Newman's visa be denied, called him an "anti-choice extremist".
The minister, Peter Dutton, confirmed to local media that he cancelled the visa amid concerns Mr Newman's presence could incite violence against abortion doctors and the women using them.
Mr Newman has called women who have abortions "murderers".
But the website for Mr Newman's organisation Operation Rescue insisted that "Newman has never advocated violence and in fact, urges pro-life activists to work within the governmental and legal system to accomplish change".
The group also wrote that it, and Right to Life Australia, were "working furiously" to turn the situation around.
Writing on his Facebook page, Mr Newman wrote "RED ALERT!!!... It is clear that the pro-abortion crowd does not want anyone to hear the truth about Planned Parenthood's illegal actions."
"Please pray for me I'm stuck in Denver airport like a man without a country," he added.
The visa decision comes days after the government said it was unlikely American singer Chris Brown would be given a visa because of his record of domestic violence.