Australian scientists design poo-collecting suits for turtles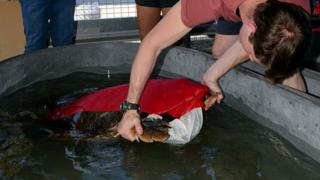 Australian scientists studying the eating habits of endangered sea turtles have come up with an innovative way of collecting vital faecal samples.
The researchers at University of Queensland designed customised swimsuits which work as giant nappies.
They said the swimsuits were easy to put on, comfortable for the captive turtles to wear and "looked great".
Crucially, they allowed for the collection of "entire faecal samples" from the loggerhead sea turtles.
"Collecting the faeces of an extremely strong 120kg sea turtle in the open ocean is no simple task, the University of Queensland said.
So instead they caught six turtles and transferred them to a tank at their Moreton Bay Research Station to wait for nature to take its course.
'Perfect solution'
Loggerheads are considered an endangered species, but untended fishing gear and netting has been blamed for many turtle deaths.
PhD student Owen Coffee and researcher Carmen da Silva came up with the designer nappy idea as part of their study of where the animals are finding food in the wild.
Initially their efforts to gather faeces from the captured turtles' seawater tanks at the university's Moreton Bay Research Station were unsuccessful.
"It was challenging to collect the entire faecal sample once it dispersed into the water," Mr Coffee said.
"So we developed a flexible funnel anchored to the shell, to fit over the turtle's tail.
"But this was not a good answer either. Because the animals are so large, it was difficult to keep the devices in place."
It was then that scientists came up with the idea of a swimsuit that fitted snugly over the turtle's shell with slits placed up the sides - leaving space for the turtle's tail and a detachable faecal collector.
"After a few modifications, including Velcro-attachments for the 'nappy', we had the perfect solution to our unusual problem," education co-ordinator Dr Kathy Townsend said.
The university said the "world's best-dressed sea turtles" were released back into Moreton Bay after their stay in the tank, without their outfits but "leaving behind important scientific samples that will be used to further protect their species".
---
Loggerhead turtles
Scientific name: Caretta caretta
Found in the Atlantic, Pacific and Indian oceans
Take almost half a century to reach maturity - the female will not start to lay eggs until she is 45
Taking so long to fully grow means that the turtle population is "less resilient", scientists say
The marine reptiles are difficult to track because they drift through thousands of kilometres of ocean, spending the vast majority of their time underwater
---