Australian father and son fugitives to remain behind bars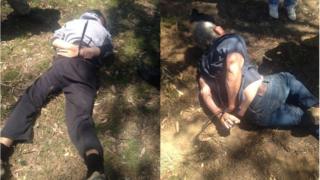 Australian father and son fugitives charged with murder and other offences will remain behind bars until their case returns to court in January.
Police arrested Gino and Mark Stucco after tracking them to a property at Elong Elong in rural New South Wales.
The body of a 68-year-old man, believed to have been missing since last month, was discovered on the property.
Gino, 57, and Mark, 36, were on the run for eight years, relying on odd jobs and their bush skills to survive.
Neither man applied for bail when the case came before Dubbo Local Court on Thursday morning.
A large operation to catch them was launched after they allegedly shot at police near Wagga Wagga in New South Wales on 16 October.
The pair were charged with murder, police pursuit, shooting with intent to murder, discharging firearms with intent to resist arrest and an array of other offences.
Police said they expected to file further charges for crimes allegedly committed in other states.