Canada whale boat: Survivors 'tried to save' missing man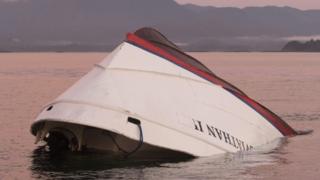 The survivors of a whale-watching accident in Canada have told police how they battled to save an Australian man still missing from the tragedy.
The Leviathan II capsized on Sunday after being struck by a wave, killing five British nationals.
Police divers have suspended their search for the missing man, named as Rav Pillay, 27, due to poor weather.
He was on board with his partner Danielle Hooker, whose father was among those who died in the accident.
Constable Jim Preston, from the dive team involved in the search, said survivors told him they had struggled in rough seas to hold onto Mr Pillay, who was unconscious after the boat capsized.
"It's him or them," he said. "The last thing they saw is him disappearing to the bottom."
Members of Pillay's family have arrived in Tofino, close to where the accident took place.
Investigators said the vessel may have become unstable, with most passengers standing on the left side when the wave struck.
Twenty-one people were rescued after the boat capsized.
Tributes have been paid to those killed: David Thomas, 50, and his son Stephen, 18; Nigel Hooker, 63; Jack Slater, 76; and Katie Taylor, 29.
A statement from Nigel Hooker's family described him as "a loving and caring father, grandfather and brother who had an appetite for adventure".
"His death has left void in all of our hearts that will never heal."
---
Who were the victims?
David Thomas had worked for technology giant Microsoft, which said it was "shocked and saddened" by his death.
His son Stephen was described by the Down's Syndrome Association as "a very talented young man and a gifted photographer".
Nigel Hooker had been visiting Canada from Southampton. He worked for Airbus Defence and Space as a programme assurance manager in Portsmouth. They said he was "a well respected and popular colleague, and will be greatly missed by everyone he worked with".
Jack Slater was born in Salford but had lived in Canada for more than 30 years. His daughter, Michele Slater Brown, said he was "larger than life, a charmer, handsome, entrepreneur" and a "lovely dad".
Katie Taylor was also an ex-pat, and was originally from Lichfield in Staffordshire, but lived in the ski resort of Whistler. She was described as a "vibrant, outgoing and lovely young woman" by her family.