Three dead in light plane crash in Victoria, Australia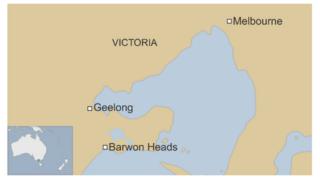 At least three people were killed when a small plane crashed into water south of Melbourne in Australia, say police.
The six-seater plane came down off Barwon Heads on Victoria's Bellarine Peninsula, about 25km (15 miles) south of Geelong.
The accident happened just before 12:30 local time (01:30 GMT), said Victoria Police.
The cause of the crash is not yet known, but weather conditions were reported to be poor.
The emergency services were dispatched to the area, including two air ambulances and Coast Guard boats.
Police later said three people had been found dead. It was not immediately clear how many people had been on board.
Barwon Heads is on the south coast of Victoria in one of the southernmost points of mainland Australia.