Australia energy firm AGL exits CSG mining business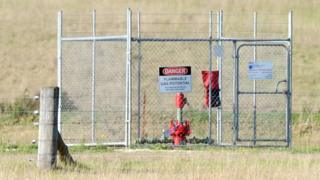 One of Australia's largest energy firms is winding down its coal seam gas (CSG) operations, citing volatile commodity prices and long development times.
CSG exploration and production "will no longer be a core business", AGL announced on Thursday.
The company will abandon projects in the states of Queensland and New South Wales, absorbing an expected pre-tax write off of A$795m ($570m; £391m).
Gas exploration across Australia has pitted miners against farmers.
Those opposed to CSG say mining could contaminate groundwater and lead to environmental catastrophes, claims the industry rejects.
Anti-CSG campaign group Lock the Gate welcomed AGL's announcement, calling CSG a "dead-end industry".
"This is fantastic and long-overdue news for the embattled Gloucester community, which has struggled for years to stop this project," Lock the Gate spokesperson Steve Phillips said in a statement.
"This is a marginal industry with no long-term security, but massive long-term risks to water resources and local communities."
AGL will continue to extract gas from its existing mines at Camden, just outside Sydney, until 2023.