'Iron Boy' granted superhero wish in Australia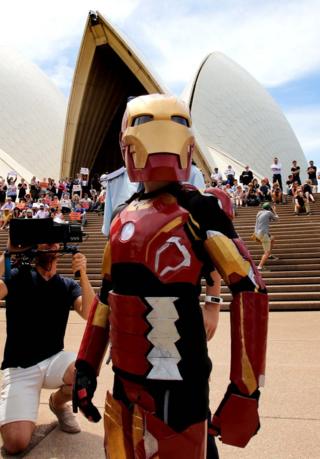 A young Australian boy with cystic fibrosis has been given the chance to save Sydney from a super villain.
The Make-A-Wish Foundation transformed nine-year-old Domenic Pace into Iron Boy for the day on Thursday.
Iron Boy defeated his arch-nemesis Ultron on the steps of the Sydney Opera House as hundreds of bystanders cheered him on.
Earlier he had saved Make-A-Wish Foundation's reporter Hope Joy from Ultron's henchmen.
Domenic travelled by helicopter to police headquarters and later rode a police speedboat to Clark Island to rescue Ms Joy.
Speaking to Sydney radio station 2GB, Domenic described the helicopter ride as "awesome".
Iron Boy received celebrity support from Robert Downey Jr, the actor who plays Tony Stark, his alter ego, in the Iron Man and Avengers films.
"Sent a very special boy on a top secret mission today. Go get 'em, Domenic," the actor tweeted.
He also posted a video on Youtube, in character as Tony Stark to tell Domenic he had been formally inducted into The Avengers, the superhero collective led by Iron Man.
"I hear you've had quite the day. It's hard work saving the world, isn't it," he said. "Iron Man loves you."
The San Francisco branch of Make-A-Wish made global headlines in 2013 when it turned leukaemia sufferer Miles Scott into Bat Kid and had him battle The Riddler at Union Square.