Australia Senate passes reforms after farcical all-nighter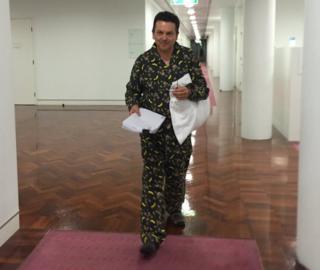 Monty Python references, a colonoscopy analogy and a pyjama-clad senator featured during an all-night sitting of Australia's upper house.
The Senate has finally passed changes to how its members are elected after 28 hours of debate.
The changes will disadvantage so-called micro parties that have gained increasing power in the Senate.
The ruling conservative Coalition formed an unlikely partnership with the Greens party to pass the reforms.
But the opposition Labor Party and micro party senators, who opposed the laws, dragged out the debate with filibuster tactics and amendments.
During the all-night debate, Labor senators consistently spoke off-topic to delay votes to the legislation giving voters greater control over where their preferences were allocated.
The laws eventually passed by a margin of 36-24.
'Animal food trough wiper'
The marathon session produced some unusual behaviour among the senators.
Independent senator Nick Xenophon, who supports the reforms, showed up to one vote wearing pyjamas covered with pictures of monkeys and bananas. He was asked to change.
Labor senator Doug Cameron began quoting Monty Python during one exchange: "You empty-headed animal food trough wiper … I fart in your general direction."
And Glenn Sterle, also from Labor, compared the marathon debate to a colonoscopy.
Australia's complex system of voter preference distribution previously allowed micro parties to secure Senate seats, even if they receive a very small percentage of the primary vote.
At the last election a clutch of micro party senators, including Ricky Muir of the Motoring Enthusiasts Party and former rugby league footballer Glenn Lazarus, won seats in the senate.
These senators have frustrated the government by blocking legislation. Their presence in the Senate also affects the Greens, depriving them of the balance-of-power position they have often held in the upper house.
The government says the move will give voters more power and prevent backroom deals.
"The only people who get advantaged by this reform are voters," Finance Minister Mathias Cormann said.
---
Micro party preferences
Australians can fill out their Senate voting ballot in two ways - "above the line" and "below the line".
Until today's reforms, you selected just one party when you voted above the line. Your preferences were then distributed according to your selected party's choice. Depending on how the votes fell, your vote could be allocated to a party you didn't support.
If you voted "below the line", you needed to number every candidate running in the election according to your own preference. This sometimes meant numbering more than 100 boxes.
Most voters used the above-the-line method.
Micro parties representing specific issues (such as the Motoring Enthusiast Party) have become increasingly common in Australian elections.
Critics said that many micro parties were created specifically to funnel preferences to other niche-issue candidates.
The reforms that were passed today mean that voters will be encouraged to number six boxes when voting above the line. Group tickets will be banned and your preferences will be allocated to parties in the order that you select. A single vote will still count, but preferences will not be allocated to other parties on your behalf.
Those voting below the line will need to select at least 12 individual candidates for their vote to count. There is no limit to the number of candidates that can be selected.