Seven cyclists hurt in kangaroo carcass crash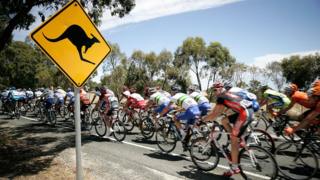 A cyclist is in a critical condition and six others are injured after they hit a dead kangaroo and crashed into a car in Australia's Victoria state.
Police said the lead rider in the group of nine dodged the carcass but other cyclists clipped it, then hit an oncoming vehicle.
A man, reportedly in his 50s, was freed from beneath the vehicle.
He was flown to Melbourne's Alfred Hospital where he remains in a critical but stable condition.
The crash happened near Shepparton, which is located about 200km from Melbourne.
Shepparton police told local media their inquiries would consider whether the rising sun made the kangaroo carcass difficult to see.