Anti-mosque banner at Aussie Rules game condemned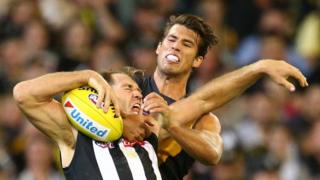 The Australian Football League (AFL) has condemned fans who hung up an anti-mosque banner during a game in Melbourne on Friday.
The banner - seen during the game between Collingwood and Richmond - also featured the insignia of the United Patriots Front, a far right group.
It was eventually taken down and the fans responsible removed.
The AFL has previously seen racism rows over the widespread booing of an Aboriginal player.
Far right group 'used me for propaganda'
How anti-Muslim sentiment hit one Australian
AFL chief Gillon McLachlan said the banner was "divisive, ignorant and deeply offensive".
Collingwood president and TV host Eddie McGuire said he was "sick to death" of people using the sport to promote "vile hatred".
Mr McGuire apologised in 2013 after making a joke about indigenous player Adam Goodes on a radio show.
Last year, Mr Goodes took time out of the game after being repeatedly booed, which he said was racially motivated.
Muslims make up about 2% of Australia's population.
Last November, a survey suggested that Australian Muslims experienced three times the average amount of racism faced by other groups.