Huge Adani mine lease angers Australia reef advocates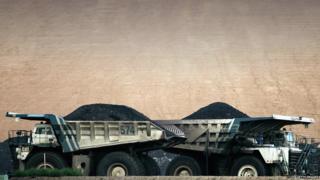 The Queensland state government has approved three leases that will allow Indian company Adani to build an enormous coal mine in Australia.
But the decision to grant the leases to the Carmichael mine has dismayed environmentalists who say it poses a risk to the Great Barrier Reef.
The project is expected to cost as much as A$21.7b ($16.6b; £11.7b)
The Adani project also faces legal challenges from environmental and traditional owner groups.
The Australian Conservation Foundation (ACF) is challenging federal approvals for the mine in the federal court in a case that will be heard in May.
"It is grossly irresponsible of the [Queensland] government to issue the paperwork for the Carmichael coal mine, which will create millions of tonnes of climate pollution for many decades to come, when we can see the Great Barrier Reef is already being savaged by climate change," the ACF's CEO Kelly O'Shanassy said in a statement.
But Queensland Premier Annastacia Palaszczuk said over 200 strict conditions would be put in place to protect the environment and emphasised the positive impact to the local economy.
"Up in Cairns, there are jobs on the reef. Out here, there's a big project which is going to generate jobs and the two can co-exist," Ms Palaszczuk said.
Adani said it intended to commence operations in 2017.
The company downplayed analyst predictions it would be difficult to finance the project in the face of a global downturn in coal, saying Carmichael exports would end up in Adani-owned power plants.
"(The) conclusion of second-tier approvals and resolution of politically motivated legal challenges is the company's principal focus, prior to a final investment decision being made," an Adani spokesman said in a statement.
Australia's Commonwealth Bank (CBA) announced last year it would no longer offer financial advice on the coal mine.
A number of international banks have also said they are not interested in funding the project, including Citigroup, Deutsche Bank and Morgan Stanley.