Man arrested after climbing Sydney Harbour Bridge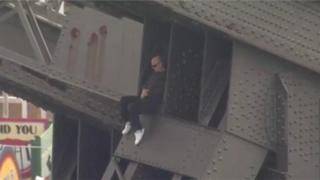 A man has been arrested after climbing to the top of Sydney Harbour Bridge.
The man reportedly began his climb after getting out of a taxi on the bridge at around 9:00 local time (0:00 GMT).
Traffic in central Sydney came to a standstill as several lanes of the bridge were closed.
New South Wales police told local media that after initially refusing to come down, the man descended and was arrested at around 10:50.
He was examined by paramedics at the scene and taken to the city's Royal North Shore Hospital for assessment.
Local media reports said he climbed about 75m to reach the top of one of the bridge's arches.