Seal found napping in Tasmania toilet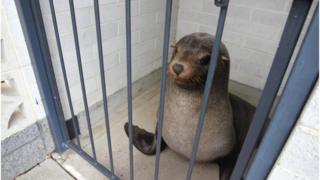 An Australian fur seal that fell asleep in a public toilet block in Tasmania has been safely relocated.
A council work crew was startled to find the 120kg (265lb) seal, who they named Sammy, taking a nap in the women's toilets at Mersey Vale Lawn Cemetery on Tuesday.
Sammy was sedated and taken to a nearby beach to be released.
The cemetery is about 500m from the ocean and it is believed Sammy may have swum up a creek to reach it.
A spokeswoman for Devonport City Council told the BBC the arrival of Sammy was "highly unusual".
"They are quite common on the beaches. Local fishermen often complain about them stealing their fish," she said.
"He came and posed for a few photos for us, which was lovely."