Australian boy wins 'best dressed' prize for Hitler costume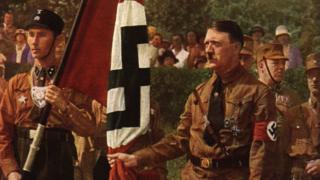 An Australian school has apologised after a boy who attended a school event in costume as Adolf Hitler was named as one of the "best dressed" students.
The scandal unfolded on Wednesday at St Philip's College, a private school in the outback town of Alice Springs.
The school apologised to the Jewish exchange students who were present.
The principal confirmed the student asked "a respected staff member" for permission to dress up as the Nazi dictator and that she had said yes.
"In a busy school, this student did go to a respected staff member said 'is this OK?' and the staff member said 'yes'," Roger Herbert told the Australian Broadcasting Corporation.
"Now she is absolutely shattered that she said that, and I'm really concerned about her wellbeing."
Last month a Western Australian mother was criticised for painting her white son's skin black in tribute to his idol, Australian Rules player Nic Naitanui.
Mr Naitanui, who is of Fijian heritage, said on Twitter that he did not believe there was any intentional offence but said the boy's mother should "reflect and choose an alternate method next time".