Australian woman finds eastern brown snake in Ugg boot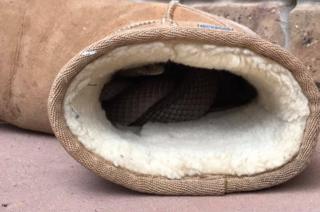 An Australian woman has called wildlife wranglers to evict a 1m-long venomous and "horny" snake from her Ugg boot.
Snake catcher Rolly Burrell caught the eastern brown snake at the woman's home in Adelaide, South Australia.
She had stepped outside her southern suburbs home to collect her shoes and saw a brown tail disappear into a boot.
The species is considered one of the world's most venomous land snakes and is found along the coasts and inland areas of mainland Australia.
"She went outside to get her Ugg boots and she saw something shoot in there," Mr Burrell told the BBC.
"She realised it was a snake."
The typically shy breed was released back into the wild away from built-up areas.
Mr Burrell said his company had been called on to remove a snake from another shoe about once a year.
Ugg boots, made of sheepskin with a woolly interior, are something of an Australian icon, and make a cosy spot for a snake to warm up.
Mr Burrell suggested the footwear decampment was a result of shifting temperatures after an unseasonably long winter.
"They're all just starting to wake up from their sleep," Mr Burrell said.
"Their mating season has started so they're all horny and hungry."