Tourist's photo praised for resembling 'map of Australia'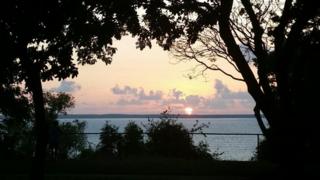 A tourist has captured a beachside photo bearing a striking resemblance to the outline of Australia.
Kelly Matthews took the sunset image looking between branches and leaves on Darwin Esplanade in the Northern Territory.
The emergency services phone operator travelled to Darwin from Western Australia for a wedding.
"I put it on Facebook and straight away all my friends said 'that looks like a map of Australia'," she told the BBC.
The photo was praised on social media, although some noticed a conspicuous omission.
"Tasmania absent as usual," William Lehmann said.
Elle Chicoli replied: "Mate, just go there and cut a hole in the bush."