Cyclone Debbie: Five tales of the storm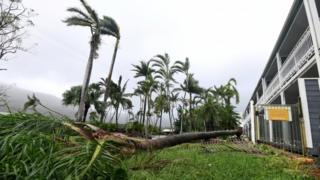 As the "battering ram" that is Cyclone Debbie bore down on Queensland, it was met with ingenuity, shrugged shoulders and a mix of good and not so good behaviour.
Here are five tales from the storm:
---
Ruffled feathers
No doubt the Aussie wildlife has seen this kind of thing many times before, but this image of a battered cockatoo certainly captured the attention of the media.
The owner of a motel in Airlie Beach alerted Townsville Bulletin photographer Alix Sweeney to the bedraggled bird.
Sweeney told the Courier-Mail: "I spotted something white among all the greenery. You couldn't miss it.
"There was a whole group of cockatoos sitting way up in the trees just clinging on during the gale-force winds."
Sweeney wrapped this cockatoo in a towel and called for it to be picked up by a wildlife carer.
---
Parked up
One 91-year-old resident of Queens Beach in Bowen refused to be fazed by the oncoming cyclone.
Keith Hills told news.com.au he'd seen it all before and would be staying put in his caravan.
"I've got plenty of supplies, I've got enough tucker," he said. "I've got bread rolls, milk and butter."
The Tamworth man said his daughter had called him the day before the storm was due to hit to ask if he was okay.
"I said yeah, if it's gonna kill [me], I'm meant to go that way."
It's not known yet how he fared.
---
Seeking refuge
A Melbourne couple holidaying on Hamilton Island say they were threatened with being kicked out into the storm because they could not pay the fee of A$400 ($304; £240) for another night at the resort they were staying in.
Rachael Aracic and partner Tyson Griffiths told Yahoo7 News they were forced to stay in the area as their flight had been cancelled.
Ms Aracic told the manager they "were not going to go outside".
"She then laughed at me and said it was not their problem," Ms Aracic said.
The couple were then given a cyclone kit of a torch and batteries, plus safety pins for the curtains of their waterfront bungalow, she said.
But the pair left for a refuge centre and said they heard that one bungalow had been hit by a tree.
Yahoo7 News said it had asked the resort to comment but had not heard back.
---
Trouble on their plate
Talk about shelling out. Robert and Diane Hutton, who run a shop in Ayr, were faced with a seafood dilemma as Debbie bore down.
They had just taken delivery of A$30,000 worth of prawns and realised they could lose the lot if the power went out.
"I said 'can't you just leave them in Brisbane?' but they couldn't," Robert told the Brisbane Times.
With Townsville out of generators given the demand, they had to fork out A$1,000 to have one shipped up from Brisbane - with 500 bags of ice as a back-up.
---
Oh Debbie
One musician from the town of Bowen tried to soothe the oncoming onslaught by serenading Debbie with a "cyclone blues" song that racked up tens of thousands of hits online.
Karmon Power's plea to Debbie, including the lines "please don't take my house away", was written as he was holed up in his mother's home.
"Oh Debbie, can't wait for better days, oh just tell me one thing, when's your sister on her way," the song goes.
The 24-year-old songsmith told Yahoo7 News: "I wrote it and I went to bed and I woke up this morning and my phone went crazy. I'd seen all these negatives on Facebook [about the cyclone] and thought I'd make something positive."
---
Are you in the area? Have you been affected by this? If you are willing to do so, share with us by emailing haveyoursay@bbc.co.uk.
Please include a contact number if you are willing to speak to a BBC journalist. You can also contact us in the following ways: