Stephen O'Keefe: Australia spinner fined for 'inappropriate comments'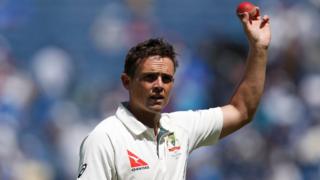 Spin bowler Stephen O'Keefe has been fined by Cricket Australia for making "highly inappropriate comments" while under the influence of alcohol.
O'Keefe, 32, made the remarks at an end-of-season awards night in Sydney last week.
He was fined what Cricket Australia called a "strong penalty" of A$20,000 (£12,000; $15,000) because he had been involved in an earlier alcohol-related incident in August.
The comments have not been made public.
"There is no excuse for this and I take full responsibility and offer an unconditional apology," O'Keefe said in a statement.
He will also attend counselling.
O'Keefe took 19 wickets during Australia's recent four-Test series against India.