Wallabies coach calls furious fan after Scotland defeat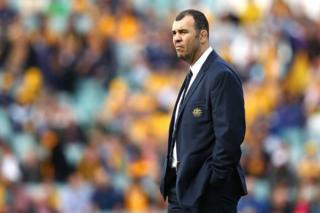 Wallabies coach Michael Cheika has spoken to the rugby fan whose social media critique of the Australian side made international headlines.
Fuelled by "15 years of hurt" and 16 beers, Jack Quigley's 800-word Facebook rant attracted over 50,000 likes after Australia's 19-24 defeat to Scotland.
He said the players lacked passion and offered to give the team a pep talk.
Cheika said the appraisal was "pretty confronting" for players but revealed he shared some of the same emotions.
'You don't care'
Quigley, an amateur rugby player and coach, took to social media after drowning his sorrows for several hours after the game on Saturday.
"I'm a pleb. I'm a nobody," he wrote. "My opinion on rugby counts for the square root of f-all in the grand scheme of things.
"But I've got one thing. Passion. Passion for the game of rugby. And for the Wallabies. And you can't deny me that. Despite your best efforts.
"When I was a kid - hell, even now, I would've given my left nut just to pull on a Wallabies jumper, but when I see you guys run out, I feel like you don't care.
"I'm willing to drive to Brisbane this week and address the squad. For 15 minutes. That's all I'll need. Then I'll turn around and drive home again. Because I feel like you've lost touch with the common man."
'We're not perfect'
The Wallabies coach had a long conversation with Quigley on Monday and urged him to keep the faith.
He disagreed that players lacked passion and with criticism of Bernard Foley's goal kicking but conceded that the post had resonated with supporters.
"I think that's important, that you talk to the fans," Cheika said.
"When we come out to [news conferences] and say we want to make the fans proud, it's not lip service. We do. We're not perfect at it sometimes."
He has put Quigley's post in the team room ahead of Australia's test against Italy in Brisbane on Saturday.