Runaway camel cornered on Australian golf course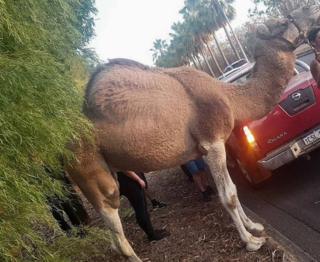 A camel that escaped from a circus has led police on a chase through peak-hour traffic on one of the busiest roads in Darwin, Australia.
The animal took off from the visiting Circus Royale before being photographed on Bagot Rd, a six-lane thoroughfare.
It was soon captured on the ninth green of a nearby golf course.
Police said it was fortunate that no motorists had been hurt. But they also saw a funny side, writing on social media that "it wasn't even hump day".
Superintendent Rob Burgoyne, from Northern Territory Police, said it caused "a bit of traffic mayhem".
---
You might also be interested in:
---
"From time to time we get animals wandering the roads, more often than not crocodiles rather than camels," he told the Australian Broadcasting Corp.
"But certainly for Darwin it is a bit unusual."
The camel was returned to the circus, which confirmed it was theirs but declined to comment further.
In November, a cow was recaptured in Western Australia after escaping from a ship and being spotted roaming for 7km (four miles).