Ex-New Zealand PM to receive Australia's highest honour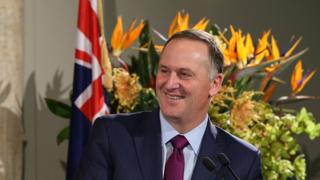 Former New Zealand PM John Key will be given Australia's highest civilian honour on Tuesday.
Mr Key will be appointed an Honorary Companion in the Order of Australia - awarded for "outstanding achievement and service" - in a Canberra ceremony.
Australian PM Malcolm Turnbull, who recommended the accolade, said Mr Key had expanded ties and economic interests between the two nations.
Mr Key cited family reasons for his surprise resignation last year.
"He is respected around the world for his influence in our region and beyond," Mr Turnbull said in a statement on Monday.
"As prime minister of New Zealand from November 2008 to December 2016, he was also deeply committed to advancing the Australia-New Zealand bilateral relationship and pursuing our common interests in the region and internationally."
Mr Turnbull said his former counterpart had also helped drive economic growth and tackle security challenges.
The Australian honours system was established in 1975 - previously the nation used the British system.
Honorary appointments are made if the recipient is not an Australian citizen.