Australian intruder 'drank champagne and fell asleep'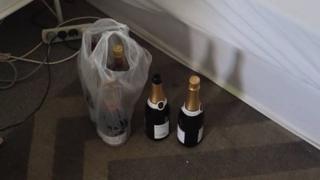 A man has been charged by Australian police after allegedly breaking into a home, drinking the owner's champagne then falling asleep in her bed.
Police said the 36-year-old man forced his way into the house in Esperance, Western Australia, around lunchtime on Friday.
He fell asleep after drinking the resident's "quite expensive" champagne, officers said.
The owner returned home and allegedly found the thief in her bed.
"She used her great initiative and crept outside the house to phone police who attended and arrested the offender," Senior Sgt Richard Moore, from Esperance Police, told the BBC.
"Police attended as soon as we got the call and located the person asleep."
The man was taken to hospital after being found "very intoxicated", Senior Sgt Moore said.
He has been charged with burglary offences.