Dean Mercer: Former Australian Ironman champion dies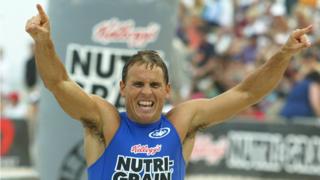 A former Australian Ironman champion, Dean Mercer, has died after suffering a cardiac arrest while driving, his family has confirmed.
Mercer, 47, was found in his car after crashing into a fence near his home on Queensland's Gold Coast.
He was given CPR by paramedics and taken to hospital, but could not be revived.
Mercer's many career achievements include winning the Australian open Ironman titles in 1989 and 1995.
"It is with great sadness and grief that we advise that our beloved Dean - loving husband of Reen and devoted father to their four boys Brayden, 13, Rory, 11, Lachlan, 9, and Joshua, 6, passed away earlier today," a family statement said.
"Dean was an amazing husband and loving father who loved nothing more than sharing his and Reen's love of life and love of the surf."
He would be remembered as one of the nation's greatest Ironmen, said the statement, which was read by family spokesman Ian Hanson.
Long career
Mercer's career included five New South Wales state titles, two Test of the Toughest titles and the 1997 World Oceanman crown.
He was credited with being among a group of athletes who lifted the profile of professional surf lifesaving.
His wife, Reen Corbett, is a retired Ironwoman, while his brother, Darren Mercer, is also a former Ironman champion.
Mercer remained involved in the sport after bowing out of top-level competition in 2010.
"Dean Mercer was a legend in and out of the water, on and off the beach," tweeted Australian Minister for Health and Sport Greg Hunt.
"His contribution to surf life saving was enormous. Vale."
Mercer's death also prompted tributes from other sportspeople, including one-time rival Ky Hurst and cyclist Robbie McEwen.