Australian licence plate sells for record A$2.45m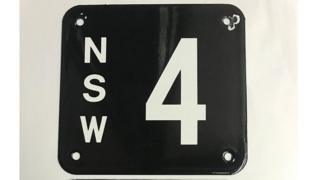 An Australian licence plate bearing the number four has fetched A$2.45m (£1.5m; $1.9m) at auction, setting a national record.
The New South Wales (NSW) state plate, from 1910, was bought by a local businessman in Sydney, auctioneers said. His name was not disclosed.
NSW 4 was purchased on Monday for about A$1m more than had been estimated.
The previous record for an Australian number plate was A$689,000, for NSW 2 in 2003, said auction house Shannons.
"This is the first single-digit plate to come up publicly for sale within the last 10 years," spokesman Stuart Roberts told the BBC.
"Most of the time they would just be kept in family trusts."
You might also be interested in:
The bidding opened at A$1m and the price rose quickly amid competition between two parties, Mr Roberts said.
Local media reported that the winning bidder is also believed to own the NSW 2 plate.