Australia same-sex marriage vote: New laws target hate speech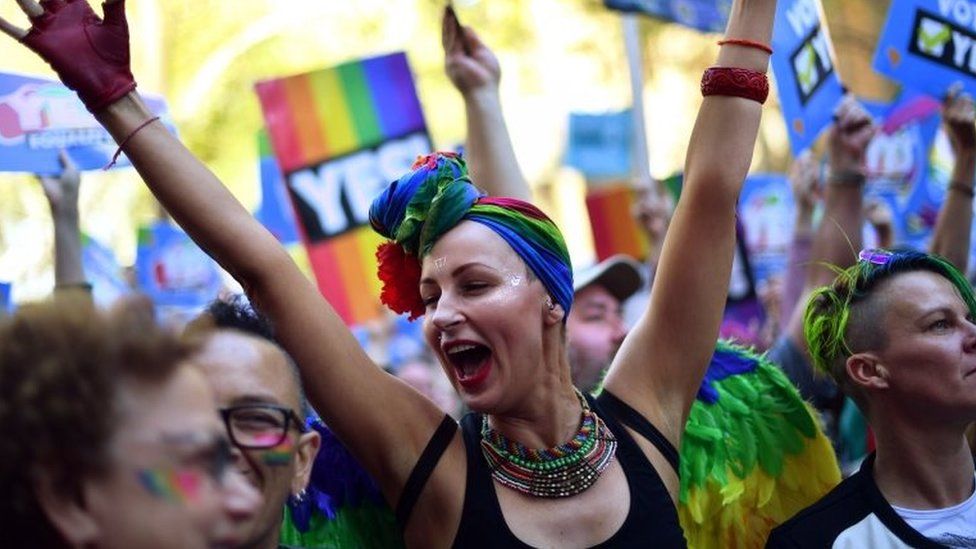 Australia has introduced laws aimed at preventing hate speech during a national debate on legalising same-sex marriage.
The survey results, due in November, could prompt a non-binding vote in parliament.
New anti-vilification laws designed to keep the debate respectful were approved in parliament on Wednesday.
The postal survey has drawn controversy over concerns that it will give a platform to hate-filled messages.
Many same-sex marriage advocates have opposed the vote, favouring a direct debate in parliament, but Yes and No supporters are campaigning heavily.
The new legislation provides safeguards against anyone being subjected to threats, intimidation or vilification during the debate.
A person deemed to breach the protections will face fines of up to A$12,600 (£7,600, $10,103).
However, any legal action seeking a penalty would require approval from the attorney-general. The provisions will remain until the vote concludes in November.
The legislation was introduced because the survey is not covered by the usual safeguards governing elections in Australia.
"We want this process to be fair and for Australians to get the opportunity to have their say in an appropriate environment," Finance Minister Mathias Cormann said.
More than 16 million Australians are eligible for the survey, which asks one question: "Should the law be changed to allow same-sex couples to marry?"
People have until 7 November to cast their vote by mail with the results expected on 15 November.
Prime Minister Malcolm Turnbull has said parliament will debate changing the law if it is supported by a majority of Australians.